I have a special place in my heart for Shaun T because Insanity Max 30 was the first program that I completed when I signed up. 4 years ago in January 2015, I started my journey to losing the weight after having my first baby. I woke up early before work and pushed play on our DVD player, some days with my newborn in my arms. I swore at Shaun T, I cried, and I definitely did not think my body was actually going to change. After the first month I took photos and I could see it. I was getting stronger, I was losing the weight but it was in month 2 that Shaun T totally rocked my world and took my fitness to the next level. I lost 20 lbs with Insanity max 30. I have never looked back and I have kept the weigh off for 4 years strong - even went through a second healthy pregnancy!! My mission is to help other people achieve a healthy and fulfilling life and give them the same support community my coach gave me as I was starting out!




SHAUN T'S NEWEST PROGRAM
COMING IN 2019
"Conquer your mind…so you can TRANSFORM your life."
It has been 3 years since we've had an entirely new workout program from Shaun T. We got to spend a week with him in SHAUN WEEK but it's now time to TRANSFORM our bodies and minds in 20 minutes a day, 6 days a week, for 6 weeks!
Rather than repeating exercises, Shaun T is going to be dropping a new workout six days a week for the duration of the 6-week program. That means you'll scorch fat, flatten your stomach, and lean out without getting bored! Plus, Shaun will be releasing new mindset videos on your rest days to make sure you're sharpening your focus and visualizing your goals.
There's no weights needed for this program – you'll be using just your body weight and a step to transform yourself from the inside out!
Transform :20 is great for Shaun T-lovers, as well as anyone who wants quick workouts, minimal equipment, and built-in motivation!! As always, there will be a modifier so you can fit the workout to your fitness level and abilities.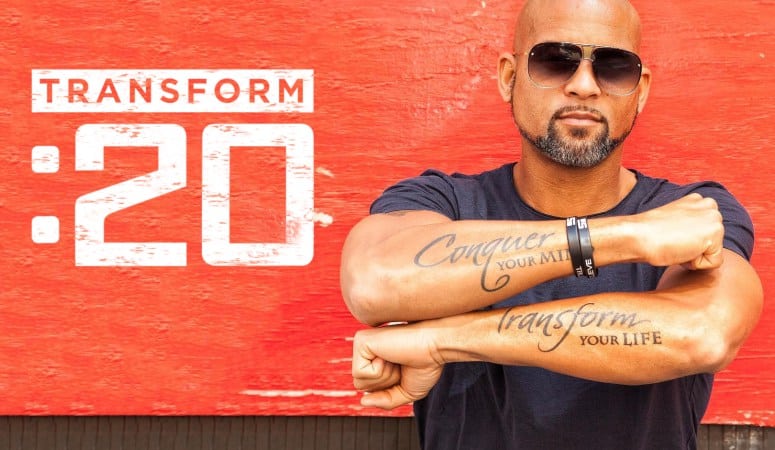 Total body workout for both the body and mind. Cardio, Strength, and Core Balance work using a Step riser. It is not step aerobics but rather a nonstop 20-minute workout to burn mad calories (!!!), sculpt your body, and build long lean muscles. If you know Shaun T, you know he takes cardio to a whole new level of burn!
Modifier in every workout
In real time…you will never see the same workout twice! This is one of my favorite parts of these workouts…okay, I have many favorite parts but this aspect is awesome!
Super simple dialed in nutrition plan to help you not only achieve and sustain your goals!
When is it available?
Launches in April 2019 on Beachbody On Demand. BUT, you can get
VIP Early Access in January 2019
! Fill out this FORM
Who is TRANSFORM :20 for?
Everyone! Shaun T created this program knowing that there are many people who just don't have the time to work out…not anymore! As a new father himself, he finds less and less time to get a workout in. This is what motivated him to create a program for EVERYONE. And if you're thinking that 20 minutes isn't enough for you…just you wait til your first TRANSFORM :20 workout. I speak from firsthand experience..IT IS MORE THAN ENOUGH! And this is coming from The Machine herself
When can I start Transforming?
You can join my TRANSFORM :20 Online fitness challenge January 2019 with VIP Early Access. BUT, you can start transforming your life now. Click
HERE
to get started on your health and fitness journey now as we wait for TRANSFORM :20.
What equipment do I need?
If you are interested in staying up to date on launch and product details complete the form here and I will be the first to let you know when the program is available for purchase.
Plus I am going to be hosting a Transform: 20 customer experience group and if you want support and accountability make sure to complete the application below to get on the list!!!
Looking forward to working with you!!! It's time to TRANSFORM your LIFE forever!!!